ChromaLuxe Introduces Redesigned Website
New ChromaLuxe.com provides richer content experience, refreshed look and feel

ChromaLuxe, the global leader in dye-sublimation metal prints, has announced the launch of its redesigned website, www.chromaluxe.com. The redesign includes aesthetic enhancements to provide a more engaging user experience and enhanced navigation to help visitors easily find the information related to their specific needs.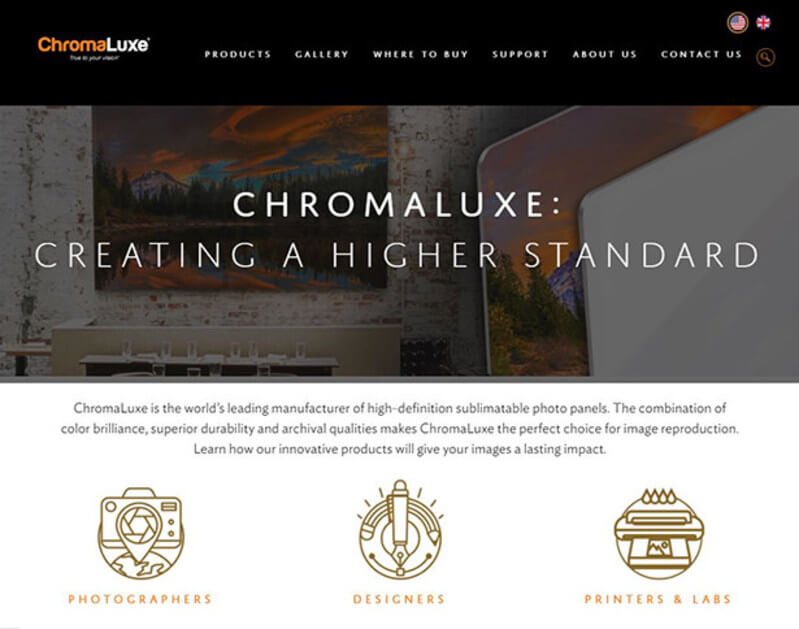 ChromaLuxe website homepage One of the biggest enhancements is in he Products and Support areas which now contain dedicated content, product information, images, and support for:
Photographers (Fine Art, Professional, Amateur, Enthusiasts)
Designers (Interior Designers, Specifiers, Architects)
Printers and Labs
According to Ryan Holtzman and Steve Flores, ChromaLuxe Brand Managers, the site was redesigned to provide a simple and engaging view that encourages visitors to explore more deeply. "We understand that visitors to our site have unique needs and interests, and we wanted to provide an interface that allows users to easily and quickly find what they need."

The site will include a list of exhibitions with work printed on ChromaLuxe. Fine art photographers, museums, and galleries with exhibitions on ChromaLuxe are encouraged to submit their events to be listed on the site. Additionally, a gallery of images showcases the numerous ways ChromaLuxe panels are displayed in a variety of environments. Photographers, designers, photo labs, artists and more can submit their work for inclusion on the site.

The Where To Buy section is a vital element to the site. Using a variety of search options, users can search for the ideal print partner or supplier to meet their requirements. Enhancements to the site will continue in the coming year with versions translated in a number of languages.

About ChromaLuxe
ChromaLuxe is the global manufacturer of premium print media, supplying high quality blank substrates for a variety of applications that require superb image quality and durability. All coatings and substrates are made in the USA with manufacturing and fabrication done in Louisville, KY. With additional locations in Belgium and Australia, ChromaLuxe serves its global customer base and provides products to more than 80 countries.

ChromaLuxe is an extension of Universal Woods, the world's leading manufacturer of hard surface sublimatable products and mezzanine decking. It is also a sister brand to Unisub, which provides the highest quality custom sublimatable products. To learn more about ChromaLuxe, please visit: ChromaLuxe.com. Connect with ChromaLuxe on Facebook (facebook.com/realchromaluxe), Instagram (instagram.com/realchromaluxe) and Twitter (twitter.com/realChromaLuxe).

ChromaLuxe is a registered trademark of Universal Woods, Inc. All other product and brand names are trademarks and/or registered trademarks of their respective companies. ChromaLuxe disclaims any and all rights in these marks.