"Reflections" Photography Project and Exhibitions
ChromaLuxe, the global leader in dye-sublimation metal prints, announced that its ChromaLuxe metal photo panels were chosen as the print medium for the Australian Institute of Professional Photography (AIPP) "Reflections" photography project and exhibitions.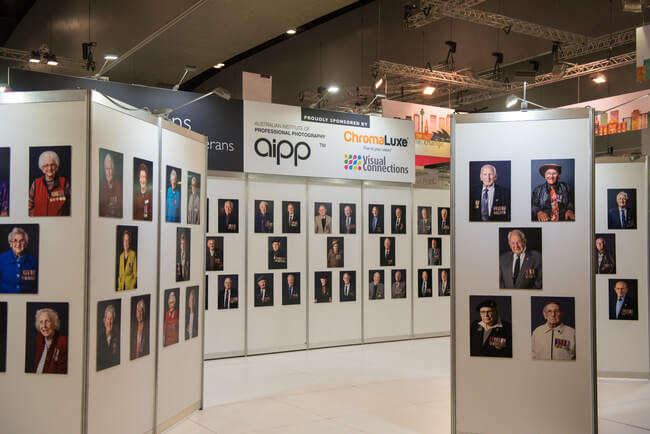 The "Reflections" project is aimed to photograph the remaining Australian Veterans of World War II to create a significant archive for the nation that reflects a sensitive portrayal of their elderly state and provide a cognizant comparison to the wartime images of young active men and women. Veterans received a commemorative print in an embossed presentation folder to honor their participation.
The prints were recently displayed at the PacPrint 2017 trade show May 23 – May 26 in Melbourne, Australia. The exhibit consisted of more than 200 veteran images on 12×18″ semi-gloss ChromaLuxe metal prints. All images will be exhibited at the upcoming Australian Professional Photography Awards in Melbourne August 25 – 27, 2017.
"ChromaLuxe is honored to be have been chosen as the print medium for the AIPP 'Reflections' project," said Steve Flores, ChromaLuxe Global Brand Manager. "The exhibitions in Australia demonstrate the global reach, appeal, and impact of ChromaLuxe metal prints. We are truly honored to be associated with this project."