Klaus Echle, Wilderness Up Close
Not to be missed: how a forest ranger creates a beautiful exhibition. Deep-seated enthusiasm and passion for nature create breathtaking images.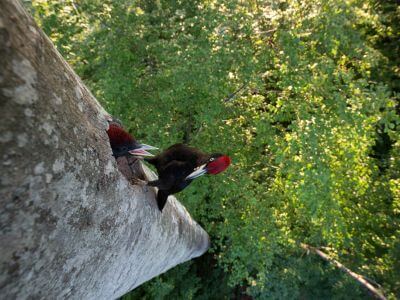 Zingst Germany, Mecca for photo lovers
The seaside town of Zingst, Germany is a mecca for photo lovers. The principal place to be for all photo lovers is the Max Hünten Haus with its extensive range of services such as a library, camera rental service, and of course the printing shop with ChromaLuxe prints.
Every year they organize exhibitions with an environmental approach. One of the exhibitions this year is by Klaus Echle. It is an outdoor exhibition on the Postplatz. Postplatz is a small park where 9 large photo frames are placed between the trees. ChromaLuxe panels fit perfectly in these frames. They are custom-made for this exhibition. Photographs by Klaus Echle are sublimated on White Gloss ChromaLuxe Outdoor panels.
ChromaLuxe for Outdoor Use
ChromaLuxe Outdoor prints have all the things you love about HD prints, but are approved for use outdoors. Panels are extremely durable, high quality, scratch, graffiti, and water resistant, very easy to clean and there is no need for an extra frame with glass. This offers enormous advantages for both the organization and the photographer. And, of course, for the visitors, because they experience it as a WOW effect.
Klaus Echle
Besides being a photographer, Klaus Echle is actually a forest ranger. In a few emotional photographs, he shows the natural and cultural landscape of his homeland. With a lot of patience, biological knowledge, time to inspire confidence and the right technique Klaus Echle succeeds in creating catchy images. His deep-seated enthusiasm and passion for nature are reflected in this exhibition.
"I am a forest ranger at heart and that is why I know my territory very well. Almost every day I notice interesting motifs or atmospheres, which I can then apply in my images" says Klaus Echle.
The extensive knowledge of the native flora and fauna enables Klaus Echle to admire and photograph certain animals up close.
"For me, these are always very emotional moments in nature. Many animals are interested, relaxed, and tolerant towards us humans – qualities I would wish for more in our dealings with animals, but also with each other", Klaus Echle admits.