ChromaLuxe Outdoor Signage at The Parklands
ChromaLuxe has partnered with The Parklands of Floyds Fork to install more than 100 outdoor signs with a 10+ year rating.
The Parklands is a park on the outskirts of Louisville, KY, spanning more than 4,000 acres. In the 1890s, Fredrick Law Olmstead, the designer of Central Park, came to Louisville to create multiple parks. In 2004, the founders of The Parklands were inspired by Olmsted's vision to "bring nature into neighborhoods," and they developed a string of parks known as The Parklands. The Parklands are enjoyed by thousands each year and continue to be a staple in the community.
With more than 11,000,000 visits since its opening in November 2012, The Parklands seeks to continue Olmsted's vision, and in the process, the park has cemented its place in the hearts of Kentuckians and tourists alike. The Parklands is entirely donor-supported and run by a team of 70 dedicated individuals.
Weathered and Faded Park Signage
We noticed the previous trail and map signs at The Parklands were faded and weathered due to exposure to Kentucky's harsh weather. This beautiful place deserves the best, and we knew ChromaLuxe Outdoor Metal Prints would be the perfect solution. We decided to reach out to the team at The Parklands and offer a solution.
ChromaLuxe has its home office and manufacturing plant in Louisville, so we saw this as the perfect chance to give back to the community where we live and work. As the leading dye sublimation media, ChromaLuxe Outdoor is engineered to last a lifetime, which is ideal for parks like this.
ChromaLuxe Outdoor Signage Built to Last & Weather the Elements
Beyond their visual appeal, ChromaLuxe Outdoor prints will last for generations. Panels thrive even when exposed to harsh elements like direct sunlight, moisture, graffiti, and chemicals. The prints we created for The Parklands were sublimated on ChromaLuxe Outdoor using Kiian Digistar Helios inks. These inks, combined with our specialty coating are rated to last 10+ years outdoors.
It was a pleasure working closely with the team at The Parklands to replace more than 100 signs. Replaced signage included trail signs, welcome signs, entryway signs, map signs, rule signs, and other various signage around the park.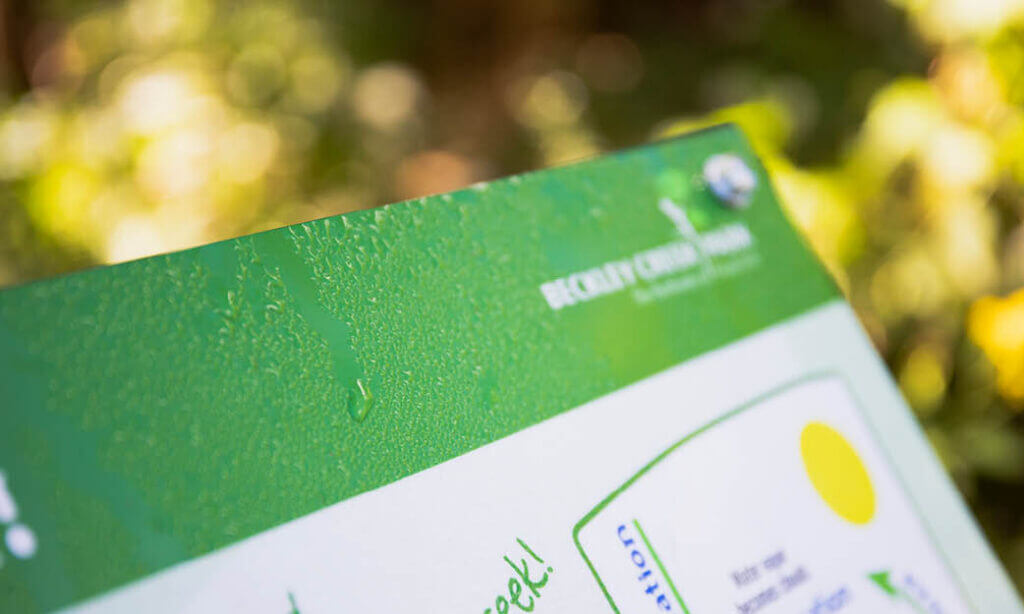 Vibrant Signs for Park Visitors
"I was completely amazed at how good they [ChromaLuxe Outdoor] looked when they were finished," said Sam Stewart, Director of Development and External Relations at The Parklands. "They were able to catch the vibrant colors. It's great how you can mount them. They don't have that vinyl on top that peels. They're meant to last."
We're proud to be a part of this beautiful park and its educational opportunities for people of all ages. In 2021, the park offered more 17,740 educational experiences. So, we're positive these new signs will help facilitate learning for thousands more.
"What's really cool to me is that not only are we able to give back to the park right now, We can put up something that's built to last," said Ryan Holtzman, Senior Marketing Manager at ChromaLuxe. So in five to 10 years, when we come back, we'll see these signs still look great."
ChromaLuxe takes great pride in helping maintain the beauty of The Parklands. This is a place where many of us enjoy downtime with our families and friends.
Everyone would agree The Parklands is one of the most gorgeous places in Kentucky. The park transports you to a remote world just outside the city, where you can enjoy the fresh air and immerse yourself in nature. If you'd like to get involved, you can learn more about The Parklands on their website.