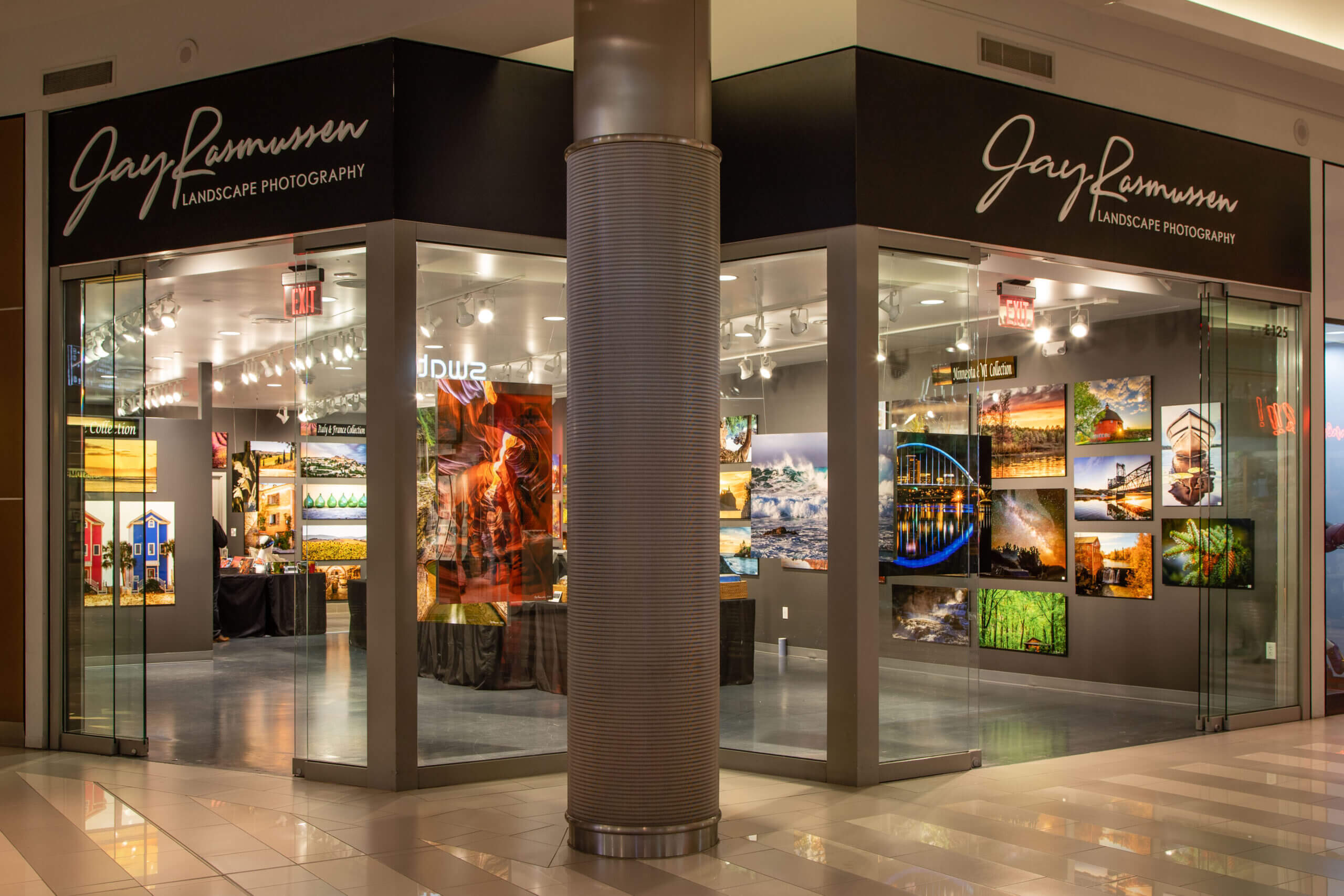 Jay Rasmussen Creates "Oasis of Beauty & Tranquility" Gallery Opening 
ChromaLuxe recently spoke with fine art photographer Jay Rasmussen to discuss the opening of his gallery in Minneapolis Mall of America. On November 5 through January 8, the 4000 square-foot space will open its doors to the public, and he'll be displaying all of his photos on ChromaLuxe photo panels.
"We plan to create an oasis of beauty and tranquility for all who enter our space," said Rasmussen.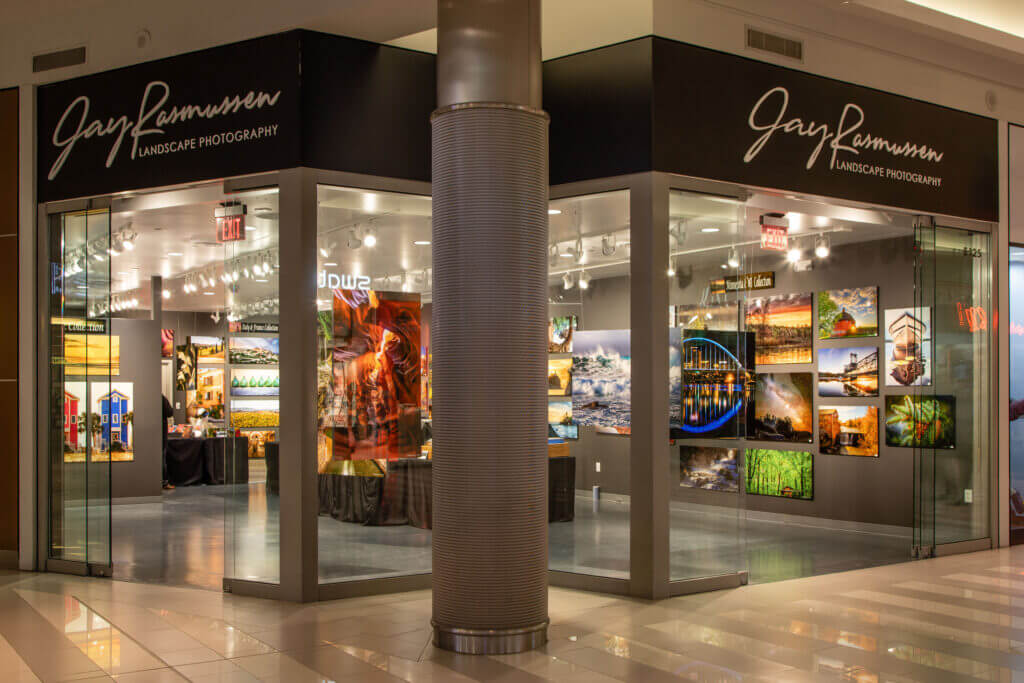 Outperforming Canvas—ChromaLuxe Sold 10:1
Various magazines, online blogs, and an installation in the Nestle Health and Science Building have all featured Jay's work. So it comes as no surprise that he has won several awards for his photography.
Still, he often thinks back on his first show. He printed half of the photos on canvas and the other half on ChromaLuxe. Can you guess which sold more? ChromaLuxe outsold canvas 10:1. Since then, he has printed exclusively on ChromaLuxe.
"All of my work is printed with a friend on ChromaLuxe aluminum using a dye-sublimation process," Rasmussen said. "We offer a gloss, semi-gloss, and matte finish, and each piece has a custom-made shadow mount frame on the back that I helped design. "
Landscape Photography Brought to Life on Metal
Looking at his landscape photography, you can immediately see that Jay is a phenomenal storyteller. His love of photography began eight years ago on a motorcycle trip with his son as they traveled from Minnesota to Argentina.
Whether you're viewing his glorious Japanese Maple with its branches outstretched or the cobalt waves splashing against the rock walls of the Queen's Bath, it's as if you were seeing through his eyes, fully immersed in the moment. The images come to life in extraordinary detail on a ChromaLuxe metal print.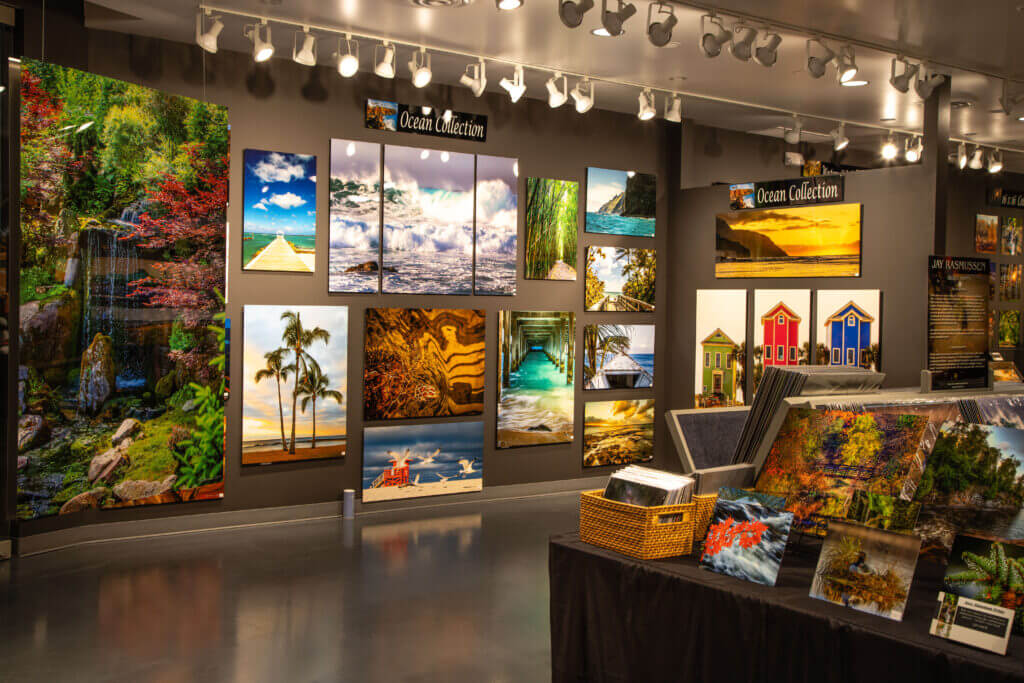 His Appreciation Withstood the Test of Time
All these years later, this self-taught photographer is still in love with the outdoors, which shows through his work. You can tell he takes the time to slow down and appreciate the beautiful world surrounding him. Through his photos and stories, he invites viewers to do the same.
He's still just as enamored with ChromaLuxe as well. He has partnered with Quiet Whisper, a small photo lab outside Minneapolis, to print his photos. For him, no other print media comes close to the vibrant display our photo panels deliver.
"The aluminum substrate fits my style and strong use of color because it captures the vibrancy and detail of what my eye is often drawn to."
Creating A Gallery Full of Vibrant Stories
There's a story behind each photo, and as current collectors of his work know well, he uses those stories to engage his customers. Perhaps that's why about 85% of his sales are from repeat customers.
With 4,000 square feet of space, this gallery is sure to take on the feel of a sprawling landscape brimming with beauty and wonder. So, try to find time in your busy holiday schedule to experience his work in person so far on November 5 – January 8, 2022.
There's nothing quite like standing before a Jay Rasmussen ChromaLuxe print and hearing the story that inspired it.
Explore More Posts
Behind the Lens: Matt Payne's Experience with ChromaLuxe Metal Prints

Grow Up, the Exhibition That Explores the Human Interaction With Plants
ChromaLuxe at the 2022 Montier International Photo Festival

Jay Blakesberg Presents RetroBlakesberg