Kevin S. Marion is an architect who lives in Mocksville, North Carolina, and designs architectural projects throughout the state. Outside of his work as an architect, Marion also creates abstract digital artwork with vivid colors and crisp detail.
He's been drawing and creating since he was a kid. Although it wasn't until college that his art really started to take off. While he was a student, the architecture industry underwent a transition from hand drawing to Computer Aided Drafting. This introduced Marion to a new world of possibilities. Wanting to enlarge some of his original hand drawings, Marion scanned them onto his computer and a new style of his own art was born.

"I colored [my drawings] in Photoshop, blew them up, and did some practices with paper and canvas on those. Then while I was fiddling with that in Photoshop, I realized that using some of the filters and some of the other things that Photoshop gives you created some really neat abstract, psychedelic effects. I started focusing in on some of those things," Marion said.
He had turned his original hand drawings into abstract studies in color, creating radiant images resembling swirling liquid frozen in time. But he was disappointed by the loss of detail when he transferred his images to canvas, so when a fellow artist showed him one of her pieces on ChromaLuxe, he knew he had to give it a try.
ChromaLuxe Perfectly Captures Crisp Details
"Wow, this would be perfect for my stuff," Marion recalls saying when he saw ChromaLuxe for the first time. "Canvas, the texture, takes away a lot of the detail that's in my work and I wasn't happy with that. So when I found the smooth, glossy finish of ChromaLuxe aluminum I was super happy with that. So that's what I've stuck with for a long time."
ChromaLuxe is now a staple in Marion's growing collection of work, in addition to blankets, masks, and shirts printed with his designs. The adaptability of ChromaLuxe allows him to create on a larger scale, fulfilling his original desire to enlarge the drawings he had done by hand.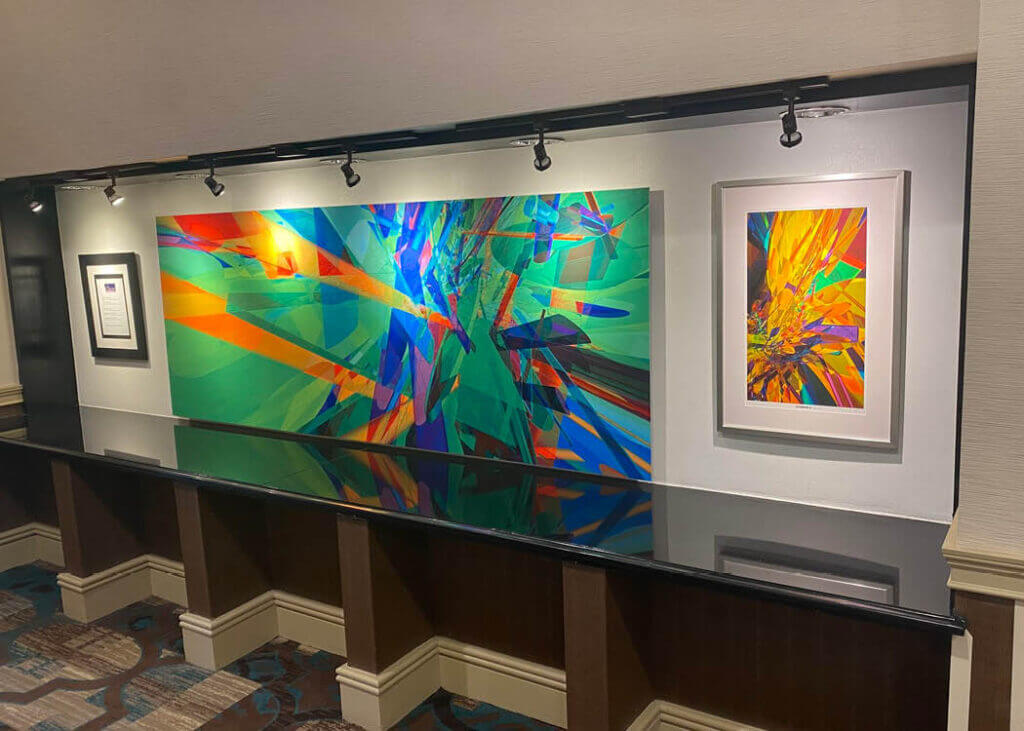 His largest piece to date is an eight-foot by three-foot composition on a single sheet of ChromaLuxe. This piece currently hangs in the lobby of the Hilton in Charlotte, North Carolina. Marion said what keeps him coming back to ChromaLuxe for his large-scale work is the visual integrity achieved through the dye sublimation process. This allows him to preserve the intricate detail of his pieces in ways other print mediums couldn't.
"Anybody who's doing digital art, anybody who's doing photography, it's a great, great substrate to print on. I would recommend ChromaLuxe to anyone."
---