A Spectacular Summer in France: MRO Foundation
On July 4, 2021, Les Rencontres de la Photographie opens in Arles, France. Since 1970, this annual summer photography festival has featured material never before seen by the public. The specially designed exhibitions, often organized in collaboration with French and foreign museums, are displayed in various historical sites. One of the sites is the Manuel Rivera-Ortiz Foundation.
The Manuel Rivera-Ortiz Foundation
The Manuel Rivera-Ortiz Foundation gives a voice to international men and women. Individuals who move beyond their own boundaries, beyond society's established standards of humanity and the environment. The 600-square-meter exhibition space features exhibitions by various photographers, videographers, sound designers, and artists. All working to improve lives and raise awareness of the world's diversity. As a proud sponsor of the MRO Foundation, ChromaLuxe provides spectacular white gloss metal prints for most of the exhibitions.
Summer of 2021
This summer, the foundation presents exhibitions on life with territorial contexts; uncertain life, life in motion, life in transformation, and life in change. The artists immerse the visitors through different approaches addressing current issues such as migration, feminism, and de-colonialism. Special attention is given to digital technology and even augmented reality. This provides a new and different perception of life and the social relations that result from it. Through photography and film, these documentary approaches shed a light on a society in constant motion.
Expograph
Expograph (Paris, FR) is a leading print company, leading in everything from designing, manufacturing, and installing permanent or temporary signage and wall decorations for offices, events, hotels, exhibitions and shops. ChromaLuxe is the brand they offer for high-quality sublimation printing on aluminium or wood. Expograph recently obtained the ChromaLuxe Certified Lab certificate because the quality they offer is remarkable. Thanks to its flexible approach, Expograph always succeeds in assisting artists and photographers with specific requirements in their projects and in turning them into real gems.
On the occasion of "Les Rencontres de la Photographie" in Arles, for example, they have created an impressive installation for the group exhibition of the Fondation Manuel Rivera-Ortiz. The group exhibition "Echo-Système" is about life in uncertainty, in transformation and in mutation. The exhibition runs until 26 September 2021. The subject brings together more than 20 artists.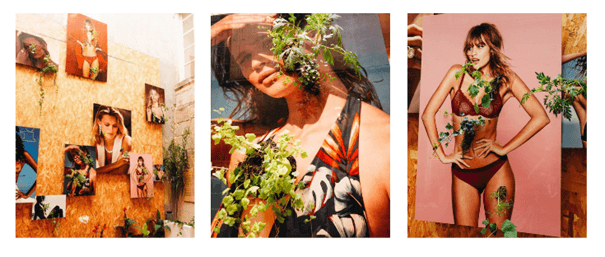 Elsa Leydier
A young French photographer, Elsa Leydier, wants to use her work "Les Marques" to challenge the tendency towards the uniformization of the female body. Every day, magazines or advertisements show the faces and bodies of women who are always smooth, white and young. With her work, Elsa draws attention to the natural beauty of a woman's body where imperfections are normal. To add weight to her message, Elsa chose an original installation in which plants grow over and through typical fashion photos, with which she wants to say that nature will always be stronger than the female ideal image sketched by the media.
ChromaLuxe metal prints are water-resistant
A print medium that is water-resistant, durable, glossy, and has a high WOW factor. That is what they were looking for to present these prints. The plants will continue to grow throughout the exhibition and need to be watered daily. Expograph chose to use ChromaLuxe white gloss panels for this installation. The sublimated panels have holes milled in them to allow the plants to continue growing. A creative way to show how strong and water resistant the panels are.
Watch in 3D
Visit the gallery virtually HERE and discover all the magnificent works of art.