The Underwater Gallery
The Underwater Gallery, an installation art exhibit that takes place entirely underwater with photographs of the Greek underwater. Showcased on ChromaLuxe panels, surrounded by the deep blue of the Aegean sea. Are ChromaLuxe panels water-resistant? Yes, they are!
Amorgos Island, Greece
In a world first, the team of "on a single breath"  presented a unique photo exhibition in an undersea cave on the beautiful island of Amorgos. The Underwater Gallery was a special exhibition that took place in September 2018 in an amphitheater-shaped cavern. The artwork was exhibited at a depth of 7-17 meters. Special underwater lighting and ChromaLuxe metal prints created a one-of-a-kind experience for the exhibition guests.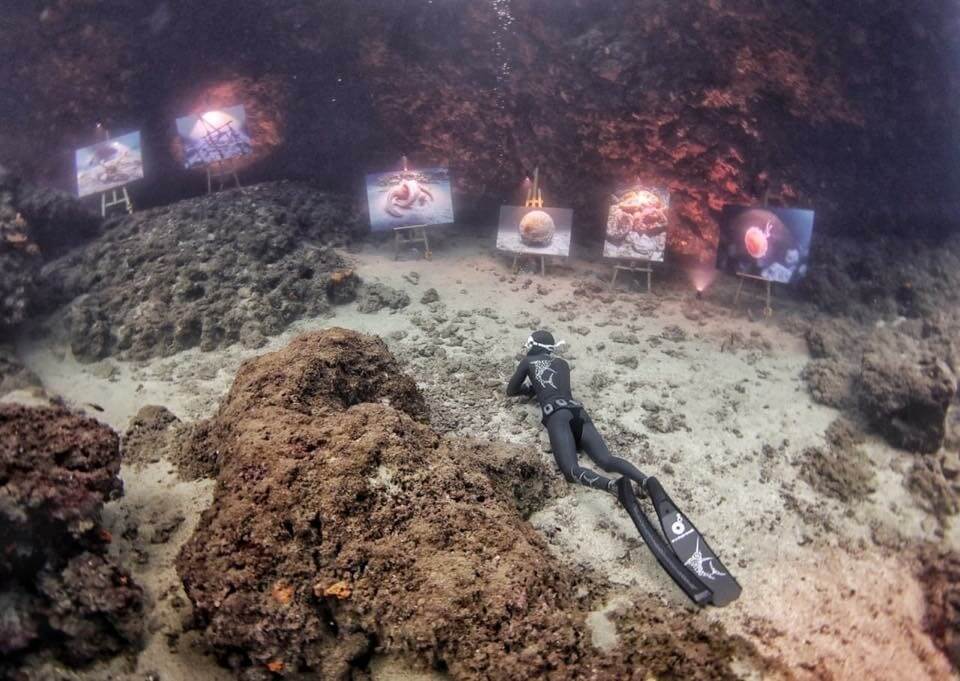 Stefanos Kontos
The photographer, born in 1972 in Ioannina, Greece, developed during his childhood a strong fascination for the sea and the underwater world. At the age of 12 he "borrowed" his father's Nikonos camera and from there began his passionate quest for underwater photography. Today he is an accomplished underwater photographer/ cinematographer who does all his work without scuba gear, all on a single breath.
Free diving
At a depth of 7 to 17 meters, the technique of free diving met the art of photography in a pioneering art event that was a first on a global scale. The Underwater Gallery is the world's first photo exhibition to be staged underwater and set up by free divers only. Kontos and seven other divers installed all the necessary equipment without the use of scuba tanks. Dive in for a moment.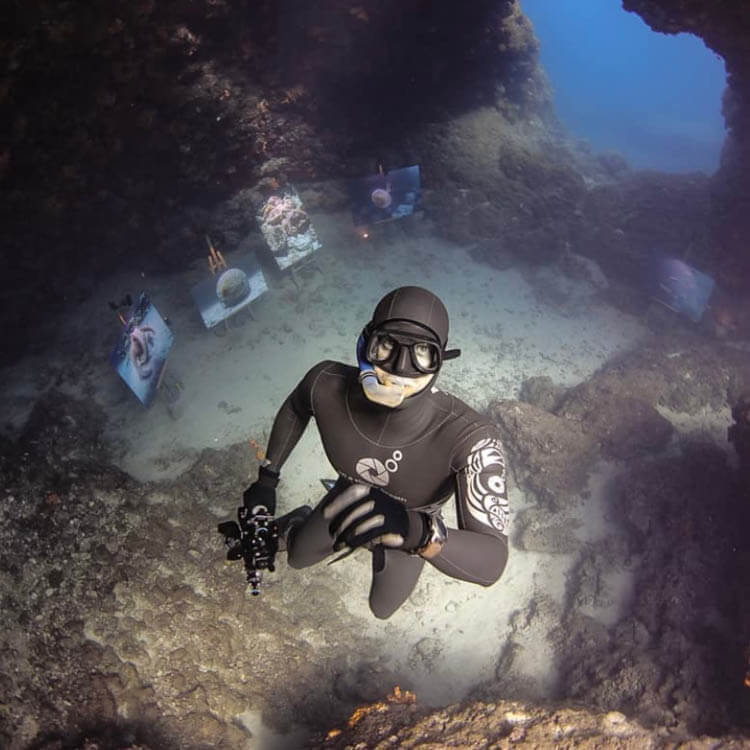 ChromaLuxe Outdoor
In order to show the photos in the open sea, the panels needed to be super water resistant. Therefore the images were sublimated on Outdoor ChromaLuxe panels, and then special light fixtures were used to illuminate them. Sublimated metal prints do not require an additional glass frame for water protection. They can be presented underwater like that without the images fading.
The location was in no marine sanctuary, no tank, or no protected or controlled environment in any way. Exposed to the elements the free-divers had to overcome force 7 -8 winds and waves in order to submerge the entire installation and create a magical atmosphere that immersed visitors inside a dream.