To Frame or Not to Frame – We're Flexible.
You've done it, you've finally captured that one brilliant shot and now you're ready to show it off for the world to see. You start exploring how to display this amazing photo, browsing through a myriad of frames, mats, and glass. It seems overwhelming, and exactly how vibrant will it look when it's behind glass?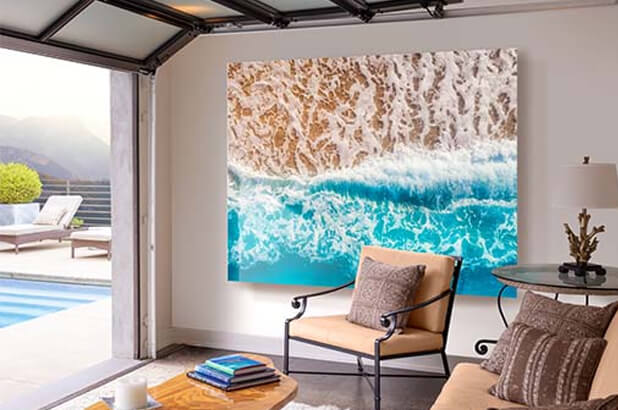 Consider another alternative – printing and presenting your work on ChromaLuxe metal prints. Printing on metal offers a luminous "wow" effect without the need to purchase traditional framing materials.
With ChromaLuxe metal prints, your image is infused into special ChromaLuxe coating, creating a stunning print that is durable, waterproof, and easy to clean. No frame or glass purchase required.
ChromaLuxe metal prints can be mounted on a hanger so that they float off the wall for a modern look, inset into a frame without glass for a more traditional look, or mounted as layered metal prints for a unique presentation.
Smaller prints can be displayed easily with an easel, horizontally or vertically. You can choose from gloss, semi-gloss, matte, or textured finishes that complement the brilliance of your photo, without any overlay to take away its true vibrancy.
Your photo lab has a variety of ways to mount your ChromaLuxe metal print, that will last for many years to come.
Ask your lab for ChromaLuxe, and trust them to create the perfect display for your work of art. CLICK HERE and discover labs and printers.